There's a lot more to see and do in the Komodo Islands other than trying to stalk a Komodo Dragon for a selfie. It's actually quite easy to get a photo with the massive lizards, which means you'll have a lot of free time to explore the Komodo Islands' other awesome world wonders as well!
There's a lot more to see and do in the Komodo Islands other than trying to stalk a Komodo Dragon for a selfie. It's actually quite easy to get a photo with the massive lizards, which means you'll have a lot of free time to explore the Komodo Islands' other awesome world wonders as well!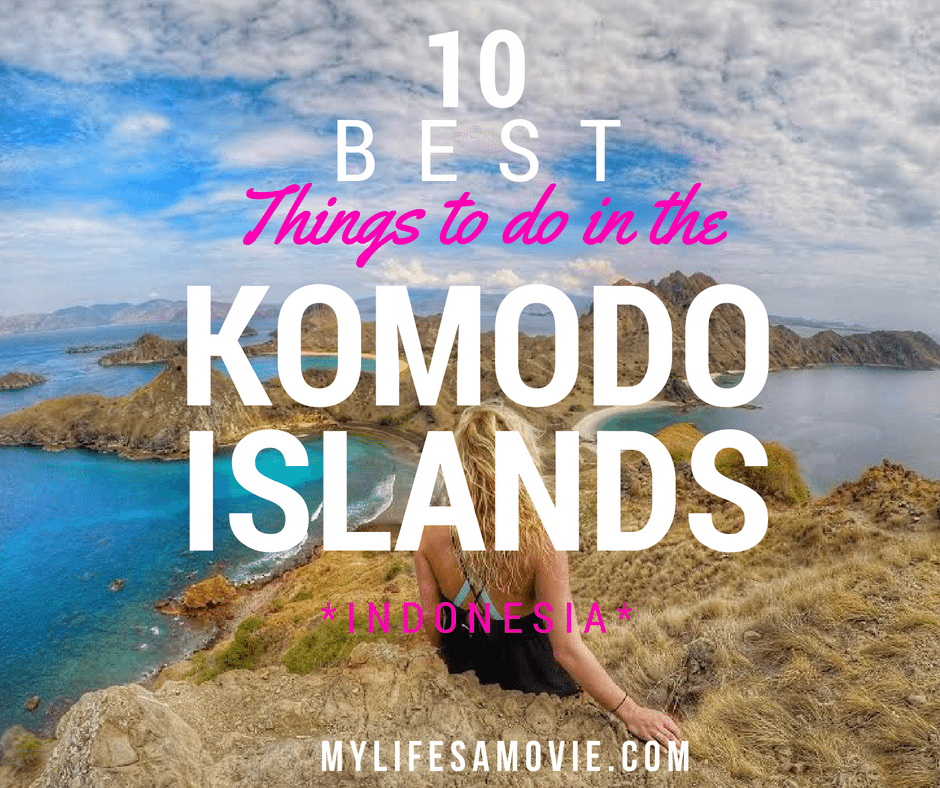 The good news is that the best things to do in the Komodo Islands are offered in the local boat tour packages, so you can see most of them in a day. Don't feel forced to rush it though, because some activities you'll want to spend longer on! For example, diving is freaking EPIC in this area of Indonesia, and probably qualifies as one of the top best things to do in the Komodo Islands.
As the name implies, the Komodo Islands are a cluster of islands, which means not only are there tons of coral reefs in its waters, and various beautiful beaches and scenic hikes as well. In fact, I had no idea that I was going to see one of the most incredible views I've ever seen on a hike before, nor did I ever expect that I'd get the chance to swim with Manta Rays as big as I am!
So if you happen to be heading to Indonesia, or it's on your to-go list, be sure to check out the best things to do in the Komodo Islands, I promise you won't be disappointed!
First things first:
Getting to the Komodo Islands
First and foremost, a little information on how to actually get to the Komodo Islands, since it can be quite confusing to figure out on your own. First you'll need to find a flight to Bali (Denpasar), which can be done affordably by using my little "flexible" technique on Skyscanner.
Basically I've figured out how to travel hack flights so that you create your own layover and save hundreds of dollars. You can see a full tutorial on how to use the flexible option on Skyscanner here: How to Use Skyscanner's Flexible Options
You can also check the cheapest flights to anywhere in Indonesia here.
From Bali, you'll need to get another flight to Labuan Bajo, the main city that is closest to the Komodo Islands. Flights aren't too expensive, and they're a much faster and safer option than taking a boat or ferry.
For full details on how to get to the Komodo Islands check out my super appropriately titled blog post: How to Get to Komodo Island.
1. Padar Island Hike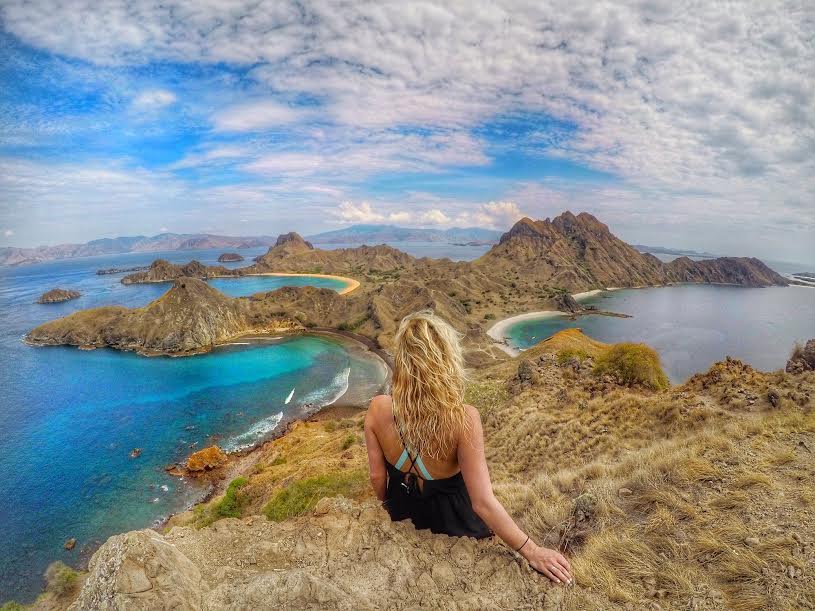 When asked what everyone's favorite part of the trip was, most people said it was the Padar Island hike. I'd have to agree that it's one of the best things to do in the Komodo Islands because it's both breathtaking, and easy to do. Padar Island is included in most of the boat tours.
Essentially once you hike to the top of Padar Island, you'll get this mind-blowing view of its three different colored beaches. That's right. You'll be able to see a pink sand beach, a black sand beach, and a white sand beach, separated only by land ridges and sparkling blue water. The hike is really easy, and if requested, your boat tour guide can go with you.
2. Manta Points Around Komodo Islands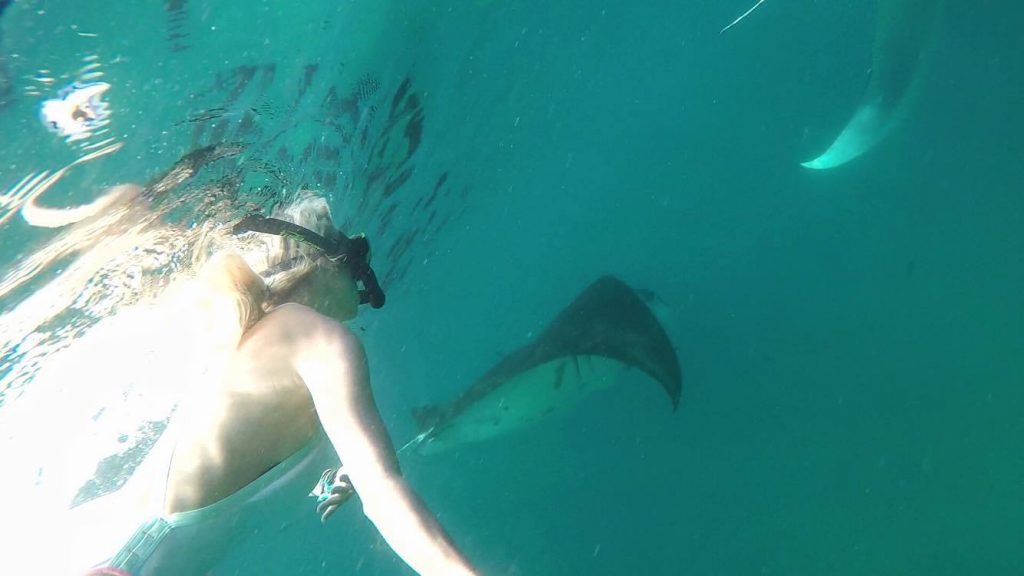 There are a couple of different "Manta Points" in the Komodo Islands, named appropriately so because that's where your best chance of spotting a Manta Ray is! I accidentally spotted a whole freaking pod of Manta Rays (not entirely sure that's what you call it) on our way to Padar Island, and my lovely, elderly boat driver was nice enough to stop and let us jump in with the snorkels.
He said the area where we jumped in was called "Manta 2", but I honestly think your best bet for seeing them is to just keep an eye out for their fins as they graze the surface. I did not see that much pretty coral (compared to all of the other stops), but I did see four Manta Rays, and even swam with them for as long as I could keep up.
"Manta 1" is a bit farther out, about an hour or so from Komodo National Park island. There's no island here, just open water to snorkel or dive in, but the clarity is amazing and so is the coral. I didn't get to scuba dive because I had a flight the next day, but even snorkeling and free-diving down to the reefs was worth it. I did see some other people's scuba videos from this area and it literally looked like they were swimming in a fish tank! Tons of colorful (and big!) fish, and even a couple turtles! …but no Manta Rays.
3. Komodo Island National Park
So obviously one of the best things to do in the Komodo Islands is to go to the actual Komodo Island National Park. Not only is it a UNESCO World Heritage Site, but it's one of the freaking New 7 World Wonders of Nature too! As you probably already know, or could have easily guessed, Komodo Island gets its name because it's home to super rare, super creepy-looking, Komodo Dragons, and it's the only place in the world where they live in nature.
Keep in mind that Komodo Dragons are massive land reptiles, that are also technically deadly to humans, meaning if you dream of spotting one "in the wild", your chances are slim. That's a good thing though, because if you did spot one, you'd have a fairly good chance of being eaten. Just kidding, the guides on Komodo Island told me only one tourist has ever been attacked and eaten by a dragon.
Anyway, Komodo Island and the National Park is a dry, hot area that reeks of reptile poo. I had an iguana when I was younger, so yes, I know what that smells like. Anyway. You'll register your name and whatnot when you first get on the island, and pay the park fee of 313,000 IDR (about $27) which includes entrance, a guide, and the "tour".
Your tour guide will grab a long stick that's supposed to protect everyone from the freaking dragons in case they get feisty, but don't worry, most of the ones you'll see are too lazy to even lift their head to look at you. That's because apparently the Komodo Dragons are all very well fed. And by very well fed I mean…there are massive deer the size of me roaming around, that the dragons just attack and eat whenever they're hungry (which is only once a month according to my guide).
Your guide will help you take selfies with a Komodo Dragon when you see one, and answer any questions you may have. Even if you don't have questions, ask them any way, because I'm pretty sure the guides get a little bored there watching lizards sunbathe all day.
4. Scuba Diving in the Komodo Islands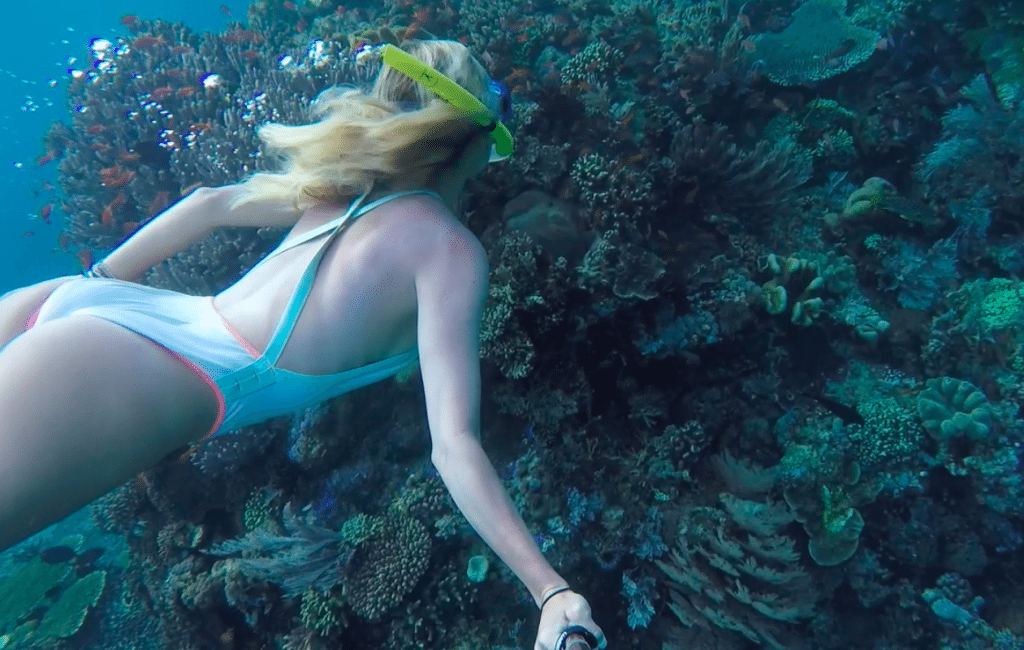 As I mentioned before, one of the absolute best things to do in the Komodo Islands is go scuba diving. If you're a diver, you definitely already know that, but if you're not, maybe an investment/commitment to consider before your trip is to get scuba certified. I'm seriously depressed that I didn't get to go scuba diving here, and would probably have cried had I not gotten lucky with swimming with Manta Rays instead, but yeah. You should definitely do it.
I got certified in Miami (by my cousin actually, Ani's Dive Adventures), but there are many places in Bali that can certify you if you have the time and are willing to invest a lump of funds. Trust me, I'm not a fan of having to spend large amounts of money on anything besides plane tickets, but getting scuba certified is definitely something that I think is worth it and easily pays off.
There are multiple dive centers you can sign up for dives at on the main street in Labuan Bajo, or you can reserve a spot online on one of these websites: Komodo Island Tours. *I'd recommend walking up to one of the local shops, because you never know who's making money off of the locals online!
If you can't get certified, or don't want to for that matter, don't worry, the snorkeling is still pretty awesome as you can see from the photo!
5. Pink Sand Beaches in the Komodo Islands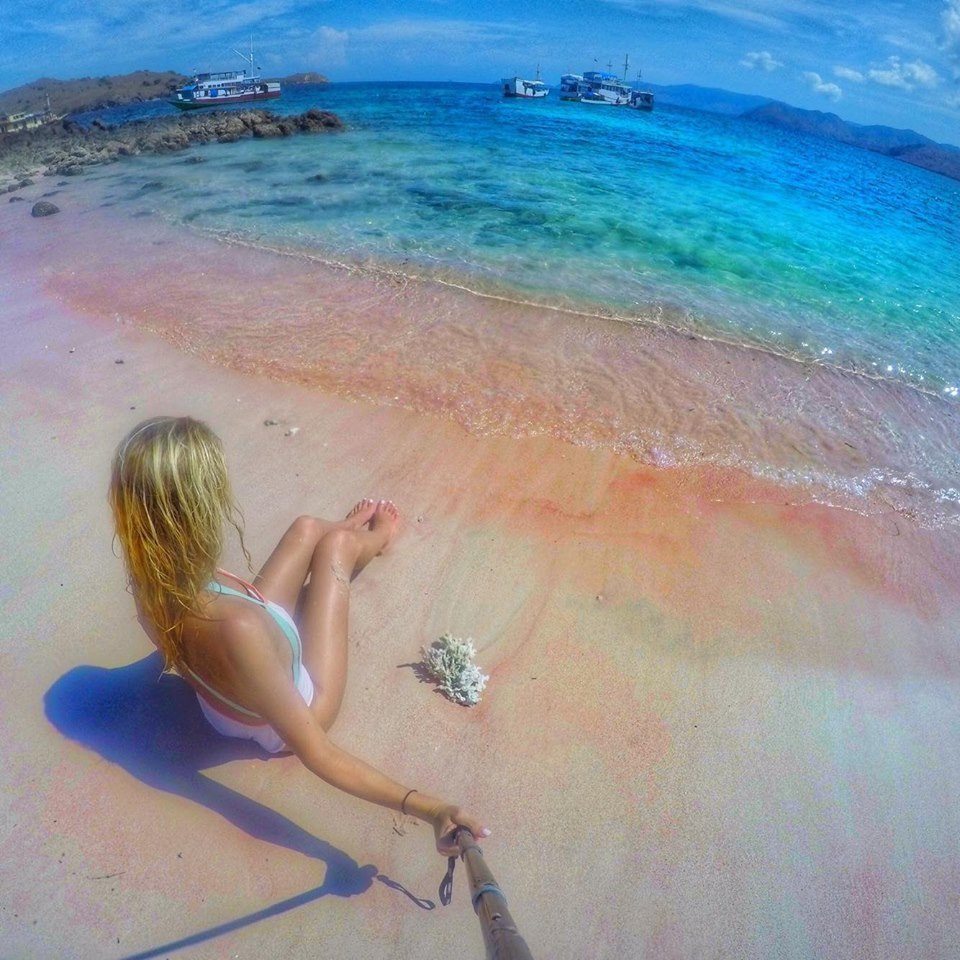 I mean, who doesn't love seeing pink sand? Luckily there's quite a few in this area, making it definitely one of the best things to do in the Komodo Islands! I'm not just talking about sand that looks kind of pink, especially when enhanced with photo editing filters. I'm talking about legit pink sand that looks like a unicorn came and threw up all over the beach.
The sand is pink on these certain beaches in the Komodo Islands because of a red colored coral that thrives in the shores nearby. When the red coral breaks off, it eventually breaks into tiny pieces which wash up on shore along with the other coral and shell particles, and what happens when you mix red with white? You get pink! Yay for pink sand!
You'll visit a pink sand beach on most of the boat tours, and you'll also be able to snorkel and see all of the cool red coral and fishies while you're there too!
6. Cunca Waterfall Near Labuan Bajo
If you have a non-boat tour day and are looking for interesting adventures near Labuan Bajo, Cunca waterfall may be of interest to you. It's not far from the main town area, and it's a nice change of scenery to see a lush jungle as opposed to the dry Komodo Islands. Oh, that being said, technically Cunca waterfall is in Labuan Bajo, but since that's the town you need to stay in to get to the islands, I decided that it also qualifies as one of the best things to do in the Komodo Islands.
7. Catch a Seaside Sunset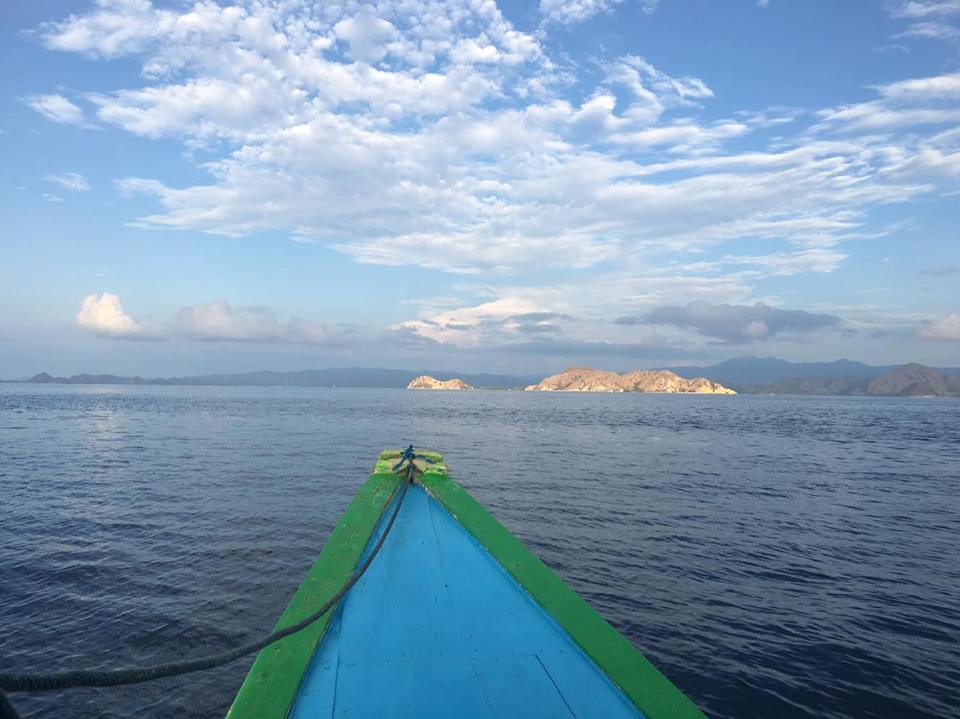 If you take a bout tour, seeing the beautiful Indonesian sunset over the sea is probably going to happen regardless. Unless of course it rains, or you close your eyes or something. It's seriously breathtaking to see the warm pink and orange colors of the sky reflect on the ocean, especially when the backdrop is scattered islands or stationary sailboats.
I personally loved the view of the sunset from the marina where all of the boat tours depart from because you get the best of both worlds. You can see the domed islands in the distance, and the massive sail boats closer to the dock. Some of them even look like fancy pirate ships!
8. Have Happy Hour at Le Pirate
When the sun sets, there's not a whole lot of things to do in the Komodo Islands, unless you're into night diving. So what better thing to do while you're in a beach town in Indonesia than hit up a roof top happy hour that involves the word 'pirate', amiright?! We actually stayed at Le Pirate, and it was probably one of the more unique "hotels" I've ever been to.
Instead of basic hotel rooms, Le Pirate has about 15 cute, individual, mini house-shaped bungalows, each with only a single bed, and private bathroom. The little house-rooms are on the third floor of the open building, and below it is the island-themed restaurant where there's a restaurant and live music. On the fourth floor there's a mini pool, sun deck, and bar, which also has happy hour, delicious food, and an awesome view, especially for sunset!
9. Indulge in Local Indonesian Cuisine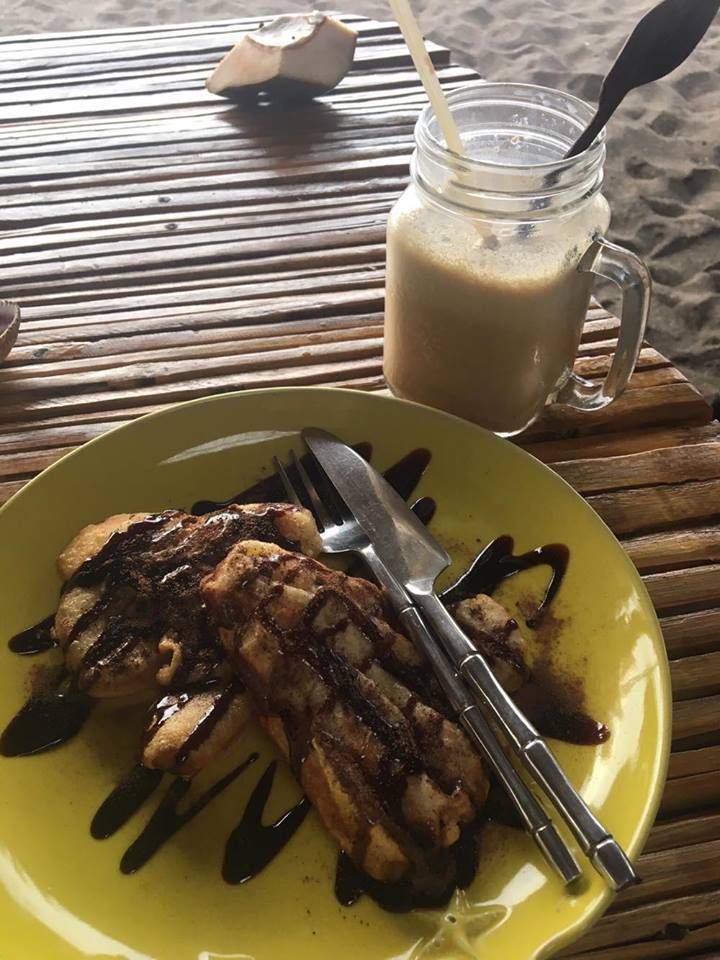 What better place to try some authentic Indonesian food than at a place called Atlantis, right?! It's just a short drive away from the main little area of Labuan Bajo, but I promise you it's worth it. Not only is the food freaking fantastic, but the entire restaurant is made out of a giant, old-fashioned, pirate ship. I'm not entirely sure if it used to be a real pirate ship, but I don't even care because the site of it is just beyond amusing.
Get some family style dishes to share so you can try a bunch of things, from grilled squid (my favorite), to whole fried fish! If you're feeling a bit local-food-ed out, there's also a really yum restaurant in town that I'd recommend called Mediterraneano. It has everything from beef steaks to tuna steaks, and some of the most p
henomenal dessert that I've had in a while!
10. Stare at the Milky Way Over the Komodo Islands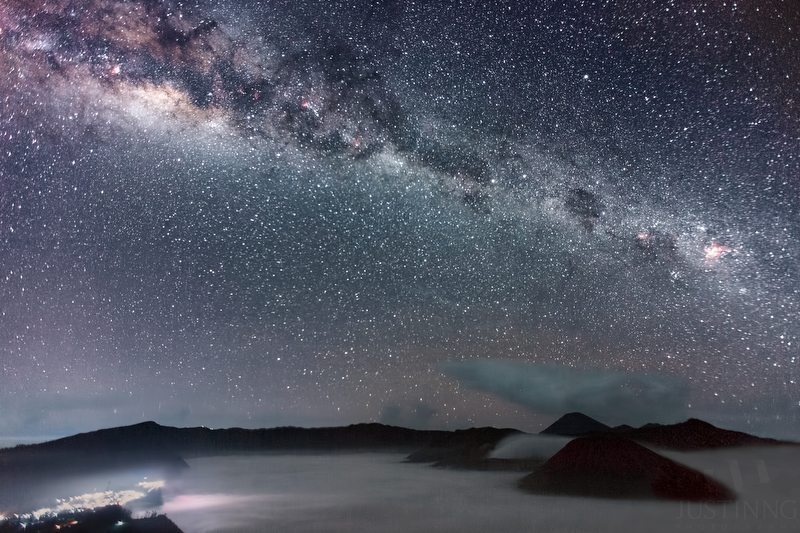 Have you ever seen the Milky Way with your naked eye before? Ok, some of you probably have, but even if so, you'll still know what an incredible site it is to see, especially when you're in a magical place like the Komodo Islands. Since there's not a whole lot that goes on in Komodo/Labuan Bajo at night, dinner, drinks, and the Milky Way make for a pretty damn good nighttime option.
We saw the Milky Way the clearest from the Atlantis restaurant since it's a bit of a ways away from the lights of the little town. If you happen to do a two day, overnight boat tour though, you'll probably get the most epic view when you're out on the ocean with no lights at all other than the stars!
 Disclaimer: This post is proudly in collaboration with Skyscanner, and all information and opinions are my own!
Source :https://mylifesamovie.com/2016/10/13/10-best-things-komodo-islands/